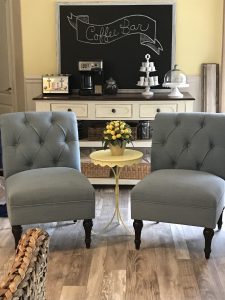 One of my sweet friends shared with me her happy place that she created in her home.  She loves coffee and used the space off her kitchen to add her coffee bar.  This area makes her happy and is a great idea and can be changed as needed.  She wrote "Coffee Bar" in chalk.  Maybe she will recreate the space for an ice-cream bar, dessert bar, etc.  Define your happy place and make it happen.  More happy in our lives.
#coffeebar #SarasotaFloridaHomes #BradentonFloridaHomes
Nicole Ryskamp is a real estate agent and a real estate attorney who specializes in listing homes (single family homes, condos, town homes and villas) and working with customers to purchase resales and new construction in Lakewood Ranch, Bradenton and Sarasota, Florida.
The post How to create your happy place in your home… appeared first on Nicole Ryskamp.